It's your money, your future and your Credit Union. We've spent the last six months improving our member services, so you can take care of all your Credit Union financial needs when it suits you – twenty-four hours a day, seven days a week.  
We understand that life can get very busy and if something isn't simple and easy to sort, it can slip down your to-do list. We also appreciate that not all our members like digital service channels, so the option to speak to us remains in place.  
GMBCU digital service channels 
There are now three core services that interact to provide our members with a 24/7 digital service platform. These are as follows: 
GMBCU website  

 

GMBCU mobile app 

 

The

'

My CU Account'

area of the GMBCU website 

 
Thanks to our re-energised website and our brand new GMBCU app, we have streamlined and simplified our member service offering. You can access your money securely and faster than ever before. Savings withdrawals will now be in your nominated bank account within 60 seconds!  
Our mobile app has arrived – download it now 
We launched our GMBCU mobile app on the 1st of November 2023.
The app is designed to make your journey as secure and friction-free as possible, so you can stay on top of your finances, whether you're at home or on the go.   
You can use the GMBCU app to: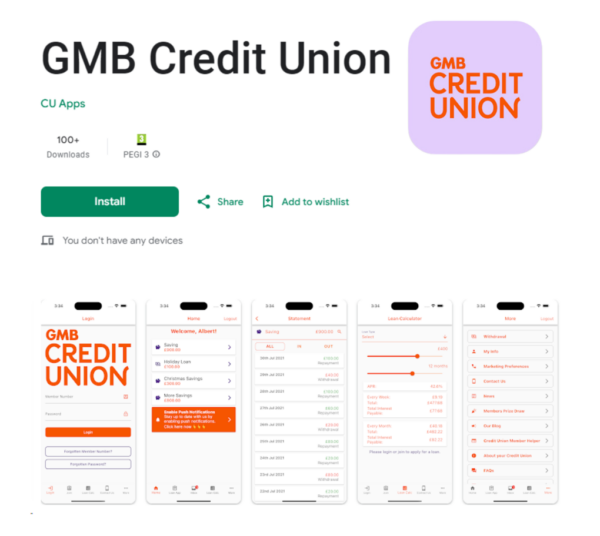 Check your account balances and view recent transactions

 

Make withdrawals  

 

Apply for a loan or savings account

 

Message us securely

 

Access financial resources to support your money management skills

 

Link to GMB Trade Union websites  

 
It's completely secure, so your personal data will be safe at all times.  
Download the GMBCU app now from the Apple store or Google Play. 
Website – 'My CU Account' area 
Whilst many of our members will access our services from the app, we appreciate that some members might prefer to use their laptops or tablets.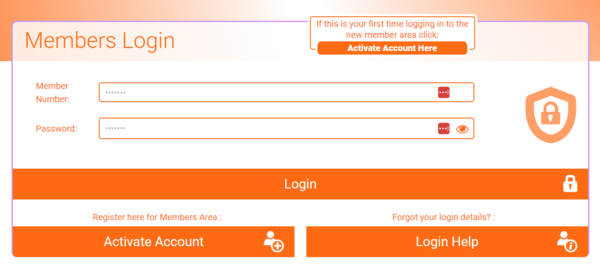 Therefore, in addition to our app, members can access their accounts 24/7 by logging into the 'My CU Account' area of our website. Log in using your GMB Credit Union account number. Please note, your Credit Union account number is an 8-digit number beginning with 214**** and is different from your GMB Trade Union membership number.   
Once logged in, you can view your GMBCU accounts, balances, and transactions in your own personal dashboard, as well as make real-time money transfers. 
If you haven't created access to your Credit Union accounts yet via our website, click the button 'Activate Account Here' and we will guide you through the process.
Join your Credit Union and start Saving 
Did you know that you can also open a savings account online through our website or the app?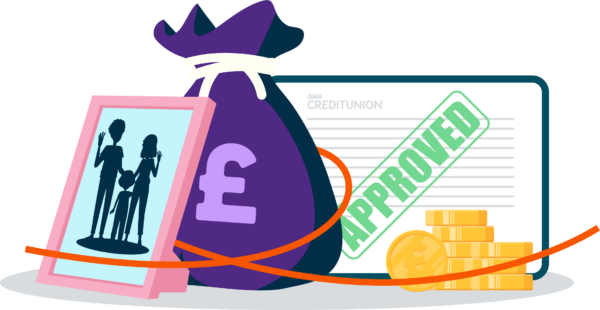 Saving regularly gives you and your family peace of mind and it helps you plan for a brighter financial future.  
Our savings accounts are simple and straightforward and savers are eligible for an annual dividend, which lands in member accounts every April.  
All you need to do to apply for a savings account is complete a quick form and we will do the rest for you.   Learn more about saving with us here. 
Applying for Loans
Looking for an affordable loan to support your planned outgoings, especially with the Christmas holidays fast approaching?
GMB members can apply for a loan through our website or through our app. Applying for a loan online is straightforward and can normally be completed in around six minutes max. 
GMBCU is a responsible lender and we offer a range of loans to suit individual circumstances. This means you can expect flexible repayment terms, affordable rates, and interest applied on your decreasing loan balance.
Find out more about our member-focused offerings here. 
Still not sure what would suit you best? You can always get in touch with us via our website or the app.  
Resources for GMB members
Our new website gives GMB members a resource hub and tools to facilitate greater financial understanding. Managing your finances can be scary and confusing at times, so we want to guide and support you wherever we can.  
Our Member Helper section of our website provides you with free access to an online budget planner, benefit calculator, debt advice locator, and key information about the support which you may be eligible for during this Cost of Living crisis. 
You can also visit our blog page here. Every month, we post new articles designed to help you understand and improve your financial situation. From credit scores and simple money management tips to money talk for kids, there's something useful for everyone.  
Visit our website to see how we can help you build financial resilience and plan for a brighter financial future today. Make sure you download our app and stay in control of your finances – you will love it!